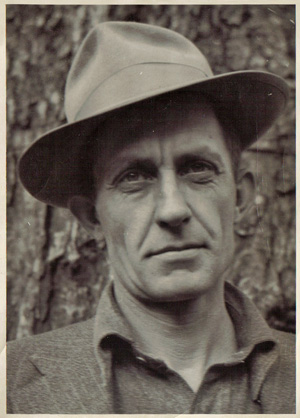 Vernon Russell Narber was born on February 14, 1909. The eldest of five children, he led a life based on faith, integrity, hard-work, and had a way about him that made all around him feel at ease and happy. He stood as a pillar of morality and manhood. I can honestly say I never knew him to ever tell a lie. This incredible man was my adoptive father. At the age of 56, he and my mother, Goldie Marie, age 50, welcomed me into their home when I was three days old. The adoption had been arranged several months before my birth and by the time I was arrived via jet plane from Houston, Texas to their small town of Hopkins, Missouri, literally the whole town and dozens of family members were anxiously waiting for my arrival.
Vernon passed from this life to sleep until the resurrection of the dead in October of 1982. I was sixteen years of age and that was the saddest day of my life. These pages are to stand as a memorial to this incredible man who still inspires me each waking moment I have in this life. He was not rich or famous, but he stood for something that few stand for today: honesty, hard work, and true commitment to excellence. As a farmer, he knew the seasons and the land well; but he knew human nature and believed that all people truly were equal, as he stood against racial inequality back in a time when such was a rarity. My fondest memories of him was all time times he nursed a wild animal back to health. He taught me to respect nature and to call its creatures friends. As the oldest of five children, he learned the meaning of responsibility from a young age. Living through the great depression, he took on the responsibility of caring for his younger siblings and making sure they got through their schooling. As a soldier in World War II stationed in Europe, he fought for freedom for a country he believed in. Growing up with him as a father can accurately be described as the best education I ever received.
Though our time together was very short, I learned the core lessons that have carried me thus far in my life. Among these values are to never give up on a dream no matter what the obstacles are in front of me; to stick the course out no matter what happens; to value nature and all of its creatures; to respect the American dream and stand behind my nation and the values it demonstrates as summarized in our great Constitution; and to be self sufficient and not rely on others for my livelihood. I think the greatest thing thing about Vernon was that even though he was getting up there in age by the time I was in junior high, he always had the energy to dance the polka with me around the kitchen or to play checkers me with when the winter blizzards blew. If something broke he could always fix it, even my favorite doll which got mangled up a lot. And no matter what the weather was or how he felt, he was out there taking care of those animals and providing for my mother and myself. At his funeral, that small church in our hometown was over filled. People I never even had seen before came to pay his respects. At that moment, I truly realized how blessed I had been to be given this man to be my daddy. He was known as someone who would always help a neighbor out no matter what time of the day or night; and the man was a saint as he put up with his wife Goldie for over 43 years and she wasn't exactly the quiet easy going type.
I can't wait to see him in God's kingdom. Until then, I make this memorial to honor the greatest person I've ever met on my earthly journey: My father, Vernon Russell Narber.